Dell launched the redesigned Alienware Aurora R16 desktop both with the 13th and 14th gen Intel Core CPU configurations and up to Nvidia GeForce RTX 4090 GPU
Dell Technologies and Alienware launched the redesigned Alienware Aurora R16 desktop with both the 13th and 14th Gen Intel Core CPU configurations in India. The desktop also comes with up to Nvidia GeForce RTX 4090 GPU.
The desktop uses a new space-saving design, optimizing its performance from the inside out. The design includes optimized airflow, with an average 20% quieter system. Further, the Aurora R16 comes with a 40% reduced total volume compared to the R15, the company shared in a release.
Additionally, the desktop supports Up to 32GB of 5600 MT/s DDR5 memory, 1TB of SSD Storage powered by 80-plus platinum rated power supplies (500W or 1000W). The desktop also supports Wi-Fi 6 or 6E and 2.5Gbps ethernet for both wired and wireless connections.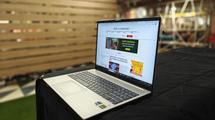 "This desktop is an engineering marvel that not only broadens our gaming arsenal but also makes the Alienware Aurora more accessible to the consumers while creating new opportunities for a wider range of players because of its pricing, efficient design and improved ventilation", Pujan Chadha, Director for Product Marketing, Consumer and Small Business, Dell Technologies India, said.
The new Alienware Aurora R16 will be available at Dell Exclusive Stores (DES), Amazon and select multi-brand stores at a starting price of ₹1,59,990.
For more such content, keep reading @techinnews