Vivo has been launching its latest creations for the past few months. The latest release entails the Vivo T series, which has taken the market by storm, sporting an elegant slim body of 8.0mm. The craze is especially due to the amazing deals given in the Diwali Sale on Flipkart. But what exactly are its specs?
Vivo T1X comes with 4GB RAM and 128GB ROM, a Qualcomm Snapdragon 680 Octa Core Processor of 2.4GHz. A few of its major specs is its rear camera, which comes with 50MP + 2MP lenses while the front camera has an 8MP lens. The LCD display is 6.58", with a 5000mAh battery capacity. 
The snapdragon core processor with a 6nm chipset provides seamless browsing of intense graphic tasks, resulting in a blazing performance. Vivo enables a 4 layer liquid cooling system which facilitates back-to-back gaming sessions or binge-watching one favourite series. The efficiency of the cooling solution across 4 components is the key to this trick. 
The design has always been a strong forte of Vivo featuring a 16.71cm Incell display, with a high resolution of 1080p, 96% NTSC colour gamut and 90.6% screen-to-body ratio – they leave little room for doubts and complaints. It has a refresh rate of 90Hz which ensures a smooth and delightful experience. The 50mp camera facilitates high-grade professional photography and amazing night mode for stunning capturization of memories with pristine clarity.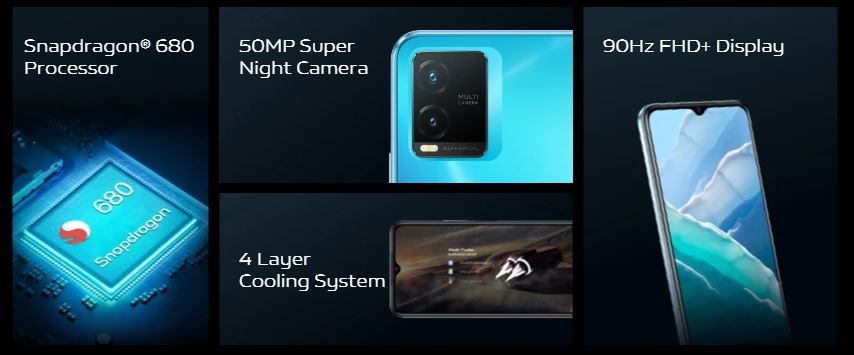 Vivo T series entices a long battery life powered by 5000mAh along with Energy Cardigan (VEG) and 18W fast charging function to keep up with our fast-paced lives. This also makes the handset consume less power, all the while it rapidly charges up to replenish the draining battery.
The feature of getting extended RAM2.0 allows one to relish their 4GB of internal memory so one can shuffle between various apps at the tip of their feature without lag. 
Cheers to the ultra game mode in this smartphone which allows us to indulge in sensory experience, toggling between modes with a single tap and engaging in lag-free splendid gaming performance. This feature also enables functions such as – 4G game vibrations, DND, Esports Mode and so much more. 
This incredible smartphone with such a sophisticated appeal and design also entails a contemporary side fingerprint sensor and face id for security reasons and seamless entry every time. Unfortunately, one of its cons is that this Vivo T1X model only supports 4G, 3G & 2G, coming with a 1-year warranty on the handset and a 6-month warranty on its accessories. 
For more such updates, keep reading techinnews