Huawei's mate series are currently Mate 9, Mate 9 Pro, Mate 9 Porsche Design Edition, and Mate 9 Lite. Not one but two more are yet to be released where Samsung 8 meets iPhone X meets Google Pixel all in one place.
Another day and another leak from the reputable leaker, Evan Blass, on a tweet is an all new Huawei Mate 10. Codename: Marcel (not the monkey)
The biggest damn Mate 10 Pro (Blanc) render you'll see all day [specs: https://t.co/15HyY0vxgv] pic.twitter.com/G5dyGOVDaH

— Evan Blass (@evleaks) October 11, 2017
Along with the top Tech Giants, Huawei is competing with a 6.2in display with a 2160 x 1080 pixel resolution, a dual-camera with 20MP and 23MP sensors and a massive 4,000mAh battery cell. It is the largest and most detailed visual of the upcoming phone of Android Oreo yet.
The front view is an entire edge to edge display joining its contenders, Apple and Samsung with a bezel-less screen. As smart as it looks, Huawei Mate 10 will also sport the AI trend with rumors of facial recognition. Kirin 970 SoC is said to be onboard, along with a 6.1-inch QHD display, and 6GB of RAM with 64GB built-in storage.
It has three color variants including Black, Blue and fresh off the boat, color Brown. With a glass back feature and a distinctive strip, similar to Google Pixel, near the top which houses the dual-sensor Leica camera and a fingerprint scanner sits below. The image confirms the f/1.6 aperture on the dual-camera.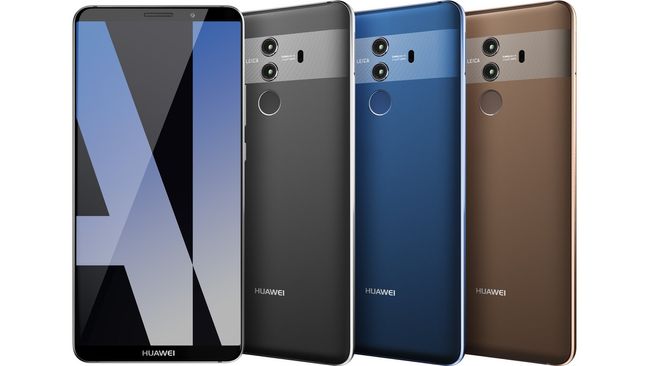 The phone will also have IP67 waterproofing, super fast LTE, and superfast charging. With the AI feature, it can enable real-time language translation, heed voice commands, or take advantage of augmented reality, which overlays text, sounds, graphics and video on real-world images that can make an edge from Apple's AR.
Huawei is the world's top 3 smartphone maker behind Samsung and Apple. Huawei's Mate 10 will be officially launched on October 16th and will be shipped the next month. Although Huawei Mate 10 leaks have been spreading for a while now, the hype is still real and rumors have escalated that it is a device worth waiting for.