People are no longer satisfied with a laptop because it is too large (unless you have a mac). Tablets, on the other hand, are far too simple for people who want to multitask and process a large amount of information at the same time. Purchase the excellent 2-in-1 laptops or convertible laptops. These 2-in-1 laptops are typically lightweight and have powerful processing power.
Lenovo IdeaPad D330 Intel Celeron N4020 detachable 2-in-1 laptops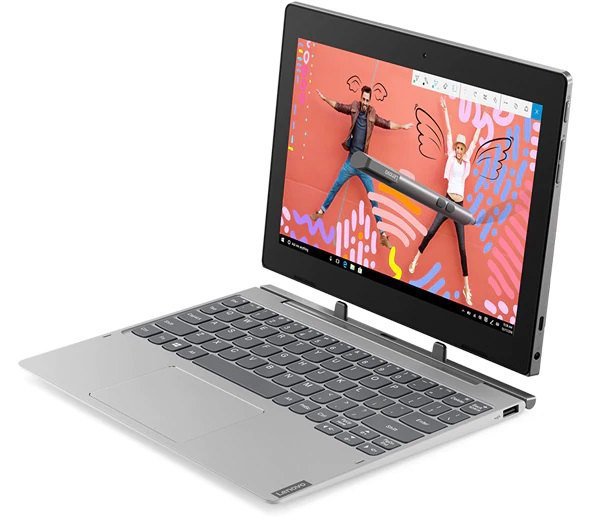 Check out this stunning Lenovo Ideapad D330 2-in-1 laptop, which has a 10.1-inch screen and is available in mineral grey. The Lenovo laptop is outfitted with a powerful Intel Celeron N4020 processor and comes pre-installed with Windows 10 Home. In addition, the offered hybrid laptop has 4 GB of RAM and 128 GB of internal storage. This convertible laptop weighs only 1.13 kg and comes with a 2 MP front camera and a 5 MP rear camera. The Lenovo laptop costs Rs 23,990.
HP Chromebook x360 Intel Celeron N4120 touchscreen, 2-in-1 laptop
HP offers this 14-inch laptop that weighs only 1.49 kg and is known for its powerful Intel Celeron N4120 processor. The available 2-in-1 laptop has a processing speed of up to 2.8 GHz, 4 GB RAM, and 64 GB internal storage capacity. Furthermore, this HP convertible laptop has an in-built Google assistant and measures 32.6 x 22 x 1.8 cm. HP laptop costs Rs. 26,990.
Lenovo Yoga 6 2-in-1 convertible touchscreen laptop
Explore this exquisite 2-in-1 laptop from Lenovo, which includes a touchscreen to enhance the overall user experience. This hybrid laptop is available in an abyss blue colour and with 16 GB RAM, making it an excellent choice for coders and marketers. Furthermore, the offered convertible laptop includes an HD 720P camera with a privacy shutter and two 1.5W stereo speakers. The Lenovo 2-in-1 laptop costs Rs 79,990.
For more such updates keep reading on techinnews.com