You can hate it, you can love it, but you can't deny game pass is one of the best deals available when it comes to gaming options.
And new gems get added so often it can be hard to keep track. But fear not!
Here are the 5 best Game Pass games that everyone will be talking about (and playing) in 2023.
5. PERSONA 5 ROYAL
Persona 5 Royal is a great contender for one of the best RPGs of all time, and it finally made its way to Xbox Game Pass, 3 years after release. The Royal Edition on Game Pass includes more than 40 DLC items not available in the base game — in case its sprawling 100-hour story wasn't sufficient for you.
4. RETURN TO MONKEY ISLAND

The original Monkey Island titles are some of the best adventure games to have ever been made, so returning to the series more than 10 years after the last release was a risk. Greatly enough, Return to Monkey Island grabs everything that made the originals so iconic, including ingenious puzzles, brilliant writing, and beautiful art.
3. DEATHLOOP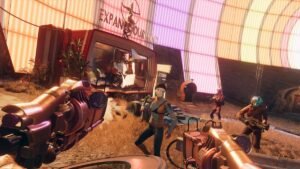 Death loop is notably one of the best games released last year, and it's finally on Game Pass! You play as Colt, who wakes up on the shore of Black Reef island without any memory. You're in an endless live-die repeat loop with one goal; take out seven targets or Visionaries before the day ends; otherwise, they are all revived, and you'll need to start all over again. Sounds easy until Julianna turns up, one of the visionaries and our main antagonists who will appear from nowhere and disrupt your plans.
2. CITIZEN SLEEPER

Citizen Sleeper is a getaway indie hit on Xbox Game Pass, tying its narrative to an innovative dice system roused by tabletop RPGs. Established on a space station on the brink of collapse, its thoughtful story follows a cloned human consciousness to explore the cost of capitalism and the need for communities to pull themselves together to survive its collapse. Two free DLC episodes released last year (and one more on the way) add even more to the story.
1. PENTIMENT
Stunning and surprising, Pentiment is an adventure for history books made by Obsidian Entertainment.
Even if it weren't made by Obsidian Entertainment, Pentiment's snazzy art style surely would have gotten a lot of attention. A murder mystery inspired by ancient art, Pentiment is a touching narrative adventure where even the font helps tell the story. Its surprisingly deep RPG systems let you shape your character into anything from a devout theologian to a defiant hooligan in 16th-century Italy.
For more such updates, keep reading @techinnews