Instagram never seems to sleep and neither does its changing algorithm and insertion of the newest features. Instagram constantly adds and deletes parts and keeping up with them might seem like a challenge. We have put together a list of all its latest features which we were introduced to in the month of November. 
Adding Music To Posts:
One of the most popular additions to Instagram is the ability to add music to posts to express the mood. This brings a whole new way of presenting content. The theme can be chosen perfectly fit the pictures posted, & they can range from calming instrumentals for nature photography to upbeat songs for birthdays & events. 
Open Instagram > click on the 'plus' option > click on a picture(s) that you want to upload > tap next > again tap next on top right corner > click on 'add music' and choose any song from the library > click on 'done' > post the picture. 
Muting Stories & Profiles: 
Even though this feature has been here for a while, not many know about it. We all have people we don't want to unfollow but don't want to see their content. Mute comes in to save the day now you can mute someone's posts, stories, reels or all of it and they would never know. 
Open Instagram > long press on their story > click 'mute in the popover > click on 'stories' or 'posts' or both. 
Another way of achieving the same results can be achieved by visiting their page. Click on the following button to mute posts and (or) story or unmute them. 
Achievements on Instagram Reels: 
This added feature allows creators to create more reels all the while improving the quality of content. 
Creative Streak – Maintaining a creative streak by making multiple reels a week;
Trendspotter – Joining popular trends by using popular audio or filters;
Collaborator – Collabing with others creating reels or posts to increase reach and follow count. 
Gifts on Instagram:
This newest option on Instagram introduced by meta ensures another line of income for content creators. This gift option will be made available with reels. The goal is to get 'gifts' from consumers of content which is appreciated by the public. This method is still in its "trial" period and is only available to a handful of creators in the US. These creators have the option to tinker with their dashboard settings to turn this feature on and off. Fans on the other hand can send said gifts by purchasing 'stars' from Instagram. 
Instagram has been ranked and rated as #1 in social media apps when considering Apple Store & Play Store. The new ideas for October entail a new desktop design, unique positioning of the menu and little changes in the reels explore tab. IG has moved its menu to a vertical bar on the left side of the screen in order to increase the focus on the feed, all the while making options more visible. 
Instagram AR Ads:
Instagram has taken incorporating Augmented reality to a new level by incorporating Instagram AI filters, customizing and creating Ads. These Ads will be capable of adding IG stories, uploading new reels, and even running the feed. Rumours claim that these will enable people to even join games and contests. This is a huge milestone for the advertisement industry, and there is no end to how it can be utilised. 
In order to create this AR universe on Instagram, ad makers are required to utilize the Meta Sparck Studio in order to create & get the approval of their vision before it's released. 
Expansion of the Creator's Marketplace on IG: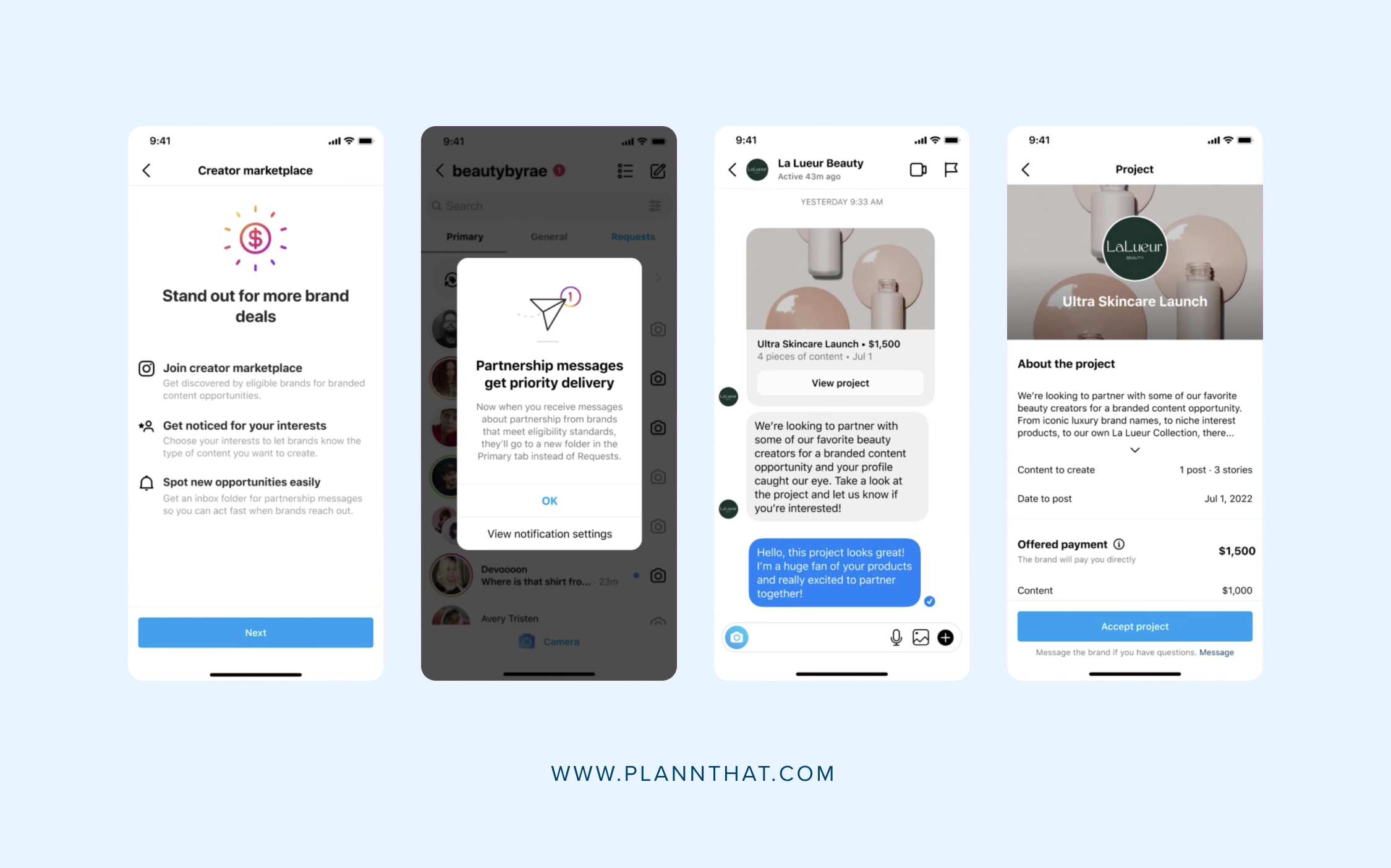 In order to make creators more discoverable, IG expanded their marketplace with added features, making it readily available to more users. Brands are now able to mass text influencers and creators with their perks & fixed rates, all of which will be indexed under the 'partnership' inbox. This makes dealing with & prioritizing sponsors much more convenient. It's said that creators will soon be able to make their profiles available for 'new opportunities' so that finding a new face isn't as difficult for the sponsors as it is now. 
Testing Notes on Instagram:
This feature is still in its testing stage and not much is known about this experimental feature. Adam Mosseri, CEO has informed us that this feature is being exclusively tested out in Instagram versions of Egypt, South Korea, Canada & Mexico. 
To inform, Notes is a short form video that might be made available on Instagram messenger which enables people to write & send notes in their inboxes, akin to passing notes in class. Notes might be presented as a message header, pretty much how stories are presented to us. 
Conclusion:
Instagram is always tinkering with its Algorithm or inserting, and subtracting changes to the social media work. It's always on the pathway to finding something new and different, alight with surprises – some of which are significant fails while some turn out to be a fan favourite. These were a few of the hot takes of Instagram from October & November of 2022.
For more such updates, keep reading techinnews