To assist users in maintaining the security and privacy of their messages and chats, WhatsApp has launched a new Chat Lock function. Although the app already offers end-to-end encryption, the new functionality adds another layer by allowing users to choose which chats they wish to keep private from others. These conversations may be kept private by employing a password, fingerprint, or face unlock option. The function has been introduced internationally and will soon be available to all iOS and Android WhatsApp users.
On Monday, Meta published a blog post announcing the launch of the new 'Chat Lock' feature, which would provide a new layer of protection to WhatsApp discussions. When activated, the function, according to Meta, will relocate locked chat threads to a separate folder. These conversations' alerts will not include the sender's name or a message preview. Additionally, the shared media files will not be immediately saved in the phone's gallery during these talks.
Several security measures, including password, fingerprint, and Face ID verification, can be used to lock these conversations. Both WhatsApp for iOS and Android includes the Chat Lock function. The most recent version of WhatsApp, which is accessible on the App Store or Google Play Store, must be downloaded by users in order to use the function. Versions 2.23.10.71 and 2.23.9.77 of WhatsApp for iOS and Android, respectively, support the functionality.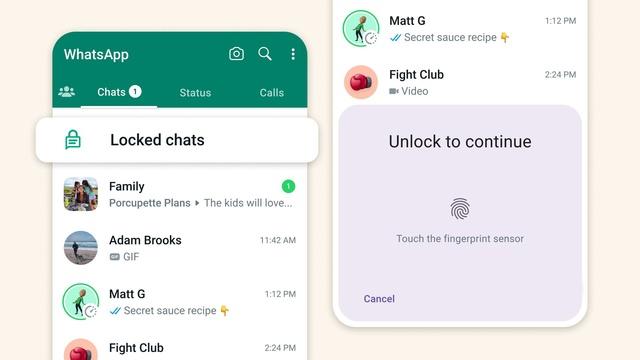 Any discussion that is locked in the folder may be moved by simply tapping on the thread and selecting Chat Lock. As noted in the blog, Meta is aiming to roll out a number of additional upgrades to the functionality, including the ability to create bespoke passwords that are distinct from the phone's current passwords. Additionally, the social media giant is trying to ensure that the Chat Lock functionality functions on all companion devices where a WhatsApp account is active.
For more such updates, keep reading techinnews