The Google Tensor G2 SoC, which in turn powers the Google Pixel 7 smartphone series, powers the Google Pixel Tablet. In summary, Android 13.0 is used to power the Pixel Tablet. It implies that one should anticipate distinct Pixel characteristics for photography or productivity. Some Google applications have also been tailored for this form format. 
This evening, May 10, the Google Pixel Tablet had its public debut at Google I/O 2023. The smartphone was initially hinted at by the firm at the introduction of the Pixel 7 series in October of last year. The new gadget also signals Google's debut into the tablet market, which is mostly controlled by Samsung's Galaxy Tab S and A-series devices and Apple's iPads.
According to Google, the tablet industry hasn't "changed" all that much, and the Pixel Tablet will resolve these issues. The Google Tensor G2 SoC, which also powers the Google Pixel 7 smartphone line, provides its power. Customers have a wide range of alternatives thanks to the Google Pixel Tablet's three colour selections.
Price Range:
For the base 128GB storage capacity, the Google Pixel Tablet begins at $499, which is around Rs 40,000. According to Google, the Pixel Tablet is currently up for pre-order in the US, Canada, the UK, Australia, Germany, France, Sweden, Denmark, Norway, and the Netherlands, with sales beginning on June 20.
This indicates that unfortunately this tablet probably won't be available in India. Additionally, Google is providing the charging station gratis.
Specifications:
Since the display is a crucial component of tablets, Google equipped the Pixel Tablet with an 11-inch LCD screen (10.95 inches to be exact), putting it in direct rivalry with Apple's iPad 10th generation (10.9 inches). Many people who prefer a considerably more portable device than a laptop-like device with a screen size of 13 inches and higher can also prefer an 11-inch display. The display supports touch, as one would think, and users may also purchase a pen (available separately) for generating content or just doodling at random.
The Pixel Tablet's display has a typical 60Hz refresh rate and a resolution of 2560×1600 (Full-HD+). It makes sense that the display's bezels would be rather thick to provide consumers with a strong grip and avoid unintentional touches.
A horizontally oriented 8-megapixel front camera is also included, a popular choice among tablet users. It is not like the iPad's portrait-oriented front camera. The Pixel Tablet's internal components include a 27Wh battery and a Tensor G2 SoC. It is guaranteed that the tablet will provide up to 12 hours of playback duration. The 8-megapixel camera is located on the back panel, which has a ceramic-like surface. A few buyers could be disappointed by the lack of an LED flash.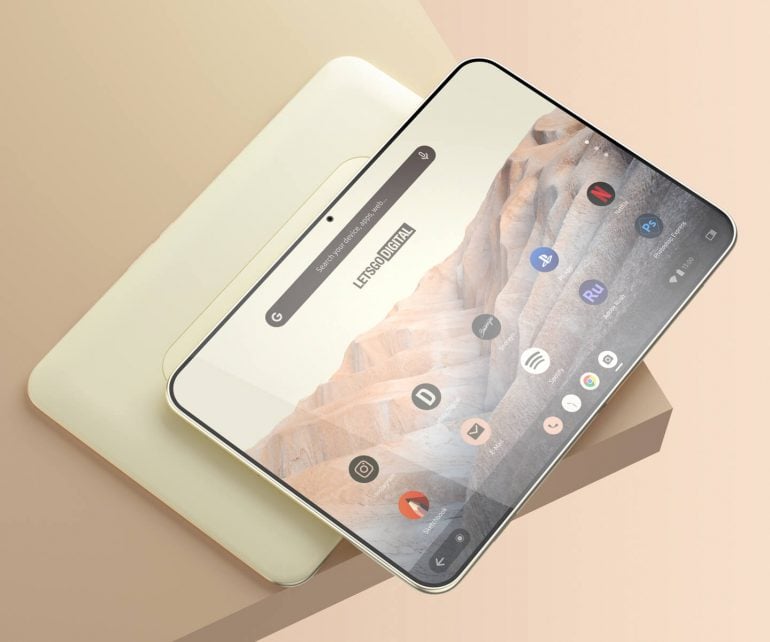 Features & Functionality:
Android powers the Pixel Tablet, most likely Android 13 at first because it is a Google tablet. It implies that one may anticipate distinct Pixel features, whether they are for productivity or photography. Some Google applications have also been tailored for this form format.
Additionally, cross-connectivity is to be expected if you already use Google products like Gmail, Calendar, Meet, Messages, Photos, Drive, and YouTube. Users won't need to worry about transferring, thanks to this. In relation to sending data, Google's Nearby Share is a smooth wireless alternative to AirDrop.
The tablet also has a side-mounted fingerprint scanner, a USB-C charging connector, a quad-speaker system, three microphones, and compatibility with Wi-Fi 6. The Google Pixel Tablet now functions like a portable Amazon Echo Show thanks to a hub that serves as a speaker that Google has demonstrated. The hub doubles as a charger, and the Pixel tablet may be transformed into an electronic picture frame.
For more such updates, keep reading techinnews