First of all,
Imagine a time when a high-quality Bluetooth keyboard doesn't break the bank. That ambition appears to have come true with HP's most recent product, the HP 350 Compact Multi-Device Bluetooth Keyboard. We're going to find out why this keyboard, which costs an astounding Rs 1,000, is creating ripples in the computer industry.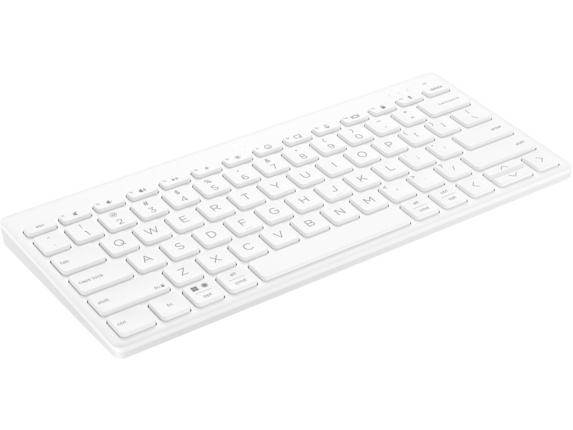 The Impossible Hero
It's as uncommon to get a top-notch Bluetooth keyboard for Rs 1,000 as it is for Iceland to win the cricket World Cup. Enter the HP 350, a revolutionary device that is shattering all conventions. Let's explore what makes this keyboard an incredible value at a reasonable price.
Easy to Carry, Sleek Design: Who said affordable goods couldn't be stylish? The HP 350 has a matt-finish, elegant appearance that mimics the format of high-end laptops. The white variant costs an astounding Rs 1,178 on Amazon and is constructed from recyclable plastic. This little keyboard is not only visually appealing but also spill-proof, making it ideal for the daily rigors of life.

typing paradise
It feels fantastic to type on a budget like never before. With its specialized shortcut keys and six-row keyboard, the HP 350 is a surprising device. The keys themselves are remarkably quiet, roomy, and well-designed. Typing on this keyboard is as enjoyable as using a more costly notebook, which is great for both covert typists and café employees.
Connectivity Abounds: Bluetooth 5.2 makes connecting to devices a snap. With the HP 350, managing three devices is a breeze, and smooth switching is ensured by the top Bluetooth key. No new software was required for it to function well with the OnePlus 11, iPhone 15 Pro Max, and Redmi Pad tablet. In addition, the emoji, brightness, and track shortcuts were all quite useful.

Extended Battery Life:
Anxiety about batteries? With the HP 350, no. It has a massive two-year battery life and is powered by two AAA batteries. Not even the slightest indication of a battery decrease after a week of use. It's the gift that never stops.
In conclusion, the HP 350 Compact Multi-Device Bluetooth Keyboard is an excellent value for about Rs 1,000. It not only outperforms its less expensive rivals, but it also shows its mettle versus more expensive choices. Although the lack of typing angles may cause some concern, the excellent performance, interoperability with several devices, and long battery life make it an essential purchase for anybody on a budget. Prepare to enter a tech paradise that fits your budget by typing!