First of all,
Enter the world of smartphones, where the Vivo V29 Pro commands attention with its novel fusion of fashion and functionality. I spent a month getting to know this mid-range treasure, taking in its colorful display, smooth performance, and, of course, its amazing camera. Here is the lowdown on why the Vivo V29 Pro merits attention.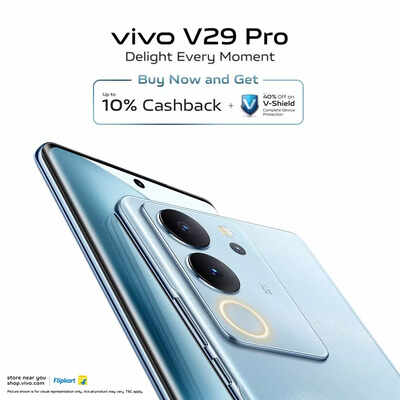 Amazing Display and Design:
The Vivo V29 Pro defies convention with its appealing design, which is made even more attractive in the hue Himalayan Blue. Although a little slick, the glass back and textured appearance give it a high-end vibe. With its clear images and organic curves, the 6.78-inch 120Hz AMOLED screen steals the show and is a pleasure for gamers, movie lovers, and sun worshippers alike.
Performance Behemoth: Equipped with a 12GB RAM and MediaTek Dimensity 8200 CPU, the V29 Pro managed gaming and multitasking with ease. There were no overheating problems or frame dips throughout any of the gaming sessions, from light to heavy. With titles like Diablo 4 and BGMI, it demonstrated its mettle even though it wasn't promoted as a gaming phone.

Magic of FunTouchOS:
The software, which is based on Android 13 and runs on FunTouchOS 13, is remarkably fluid. There is bloatware, but it's really easy to deal with. The highlight is how quickly apps start and flip between screens, which adds a fun element to regular use.
Marvel Camera:
The V29 Pro lives up to Vivo's reputation in terms of camera performance. The 50MP main camera captures clear, detailed images in a range of lighting scenarios. One noteworthy feature that allows users creative freedom is the toggle between natural and oversaturated photographs. The 12MP telephoto lens is exceptional and a unique find in the mid-range market.

Although it's a popular feature in this price range, the ultrawide camera lacks some detail. The 50MP front camera is among the finest in its class, so selfie lovers will love how well it captures little details. For a mid-range competitor, the gadget even offers 4K video recording at 60 frames per second, which is impressive.
In conclusion, the Vivo V29 Pro stands out as a serious competitor in the mid-range smartphone market because to its exceptional photography skills, performance, and design. The V29 Pro might be your key to smartphone heaven if you're looking for a gadget that shakes up the routine and excels at recording moments.