As a student in eleventh grade, Sidhant Gupta of creating the world's smallest bipedal robot. This robot not only plays football, but it also dances to hit beats.

Sidhant developed his robot at home without any external help or interference.

In the Limca Book of World Records, Gupta's 5-inch bi-pedal robot is the world's smallest bi-pedal robot.

Companies have spent millions on trying to perfect Bi pedal robots, but their advances have been futile. Said robots are usually really tall because it's easier for bigger robots to have better stability over the tiny ones.

In an interview, Sidhant stated that his 5" tall robot is perfect for walking. "It can also kick, move down slopes, and dance. I developed this robot from scratch in my house itself without any outside help." he goes on to say, "It was challenging as I had to calculate the center of gravity of the robot and calibrate the degree of bending it has to do for walking, in order to maintain its balance".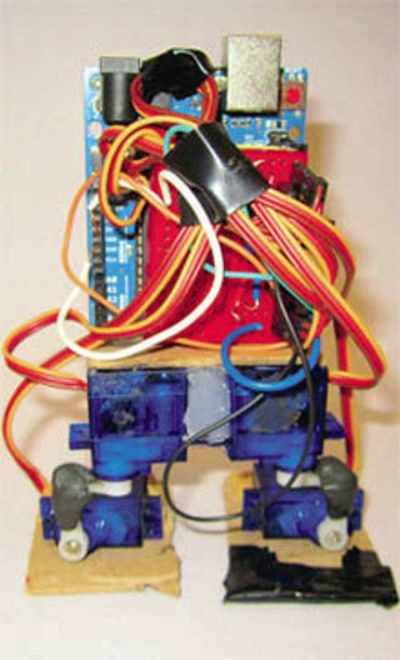 While explaining the mechanism, Sidhant said that his robot runs on At-mega 328 microcontroller equipped with 4 micro servo motors. It also includes a mini breadboard and jumper cables tying the whole mechanism together. The programming language of the robot is C++. The robot is powered by a USB cable. The whole mechanism and circuits of the smallest bipedal robot are held together with epoxy resins.

The teenager revealed that he has always had an interest in electrical circuits and electronics since his childhood. He has always wanted to 'build things' and was 'captivated by machinery and robots'. This majorly happened due to the fact that his father, Mr. Gupta's factory. The boy has been making circuits and motors since 8th Grade.

In 9th Grade, he learned Java which opened a whole new world of programming for him. He had access to several programmable microchips and microcontrollers. "I decided to never use kits but learn on my own through trial and error. In fact, in one of my projects, many LED's exploded. But I learned every time I made mistakes". Said Sidhant.

In hindsight, practicing java for his projects made him score a 100 in computer science in ICSE. Some of his projects include a "magnetic field sensor, LED matrix, laser motion sensor, and an automatic fish feeder" by the time he was in Grade X.

By then he had enough practice to attempt a fully functional robot.
Vivek Gupta, the father & owner of Kavya Engineering Private limited is elated with his son's achievement. On the other hand, his mother, Annu Gupta a house maker is "really proud that my son has entered the Limca book of records".

Sidhant one day hopes to make robots that would represent India at various robotic tournaments all over the world.
For more such updates, keep reading Techinnews