Headlined by their new flagship phone, the Google Pixel 2 and Pixel 2 XL were just unveiled last night October 4th at San Francisco. Here are some of the things we expected but got even more impressed with the surprises Google had prepared.
Google's new hardware consist the combination of Ai + software + hardware that aims to bring a different perspective in solving problems for users. Tagged as "radically helpful", their next generation of devices are fast, simple to use and "are there when you need them".
"We are rethinking of our core products and solve user-problems by applying mission learning in AI." said Sundar Pichai, the chief executive officer of Google Inc.
The major hardware event of Google was accompanied by a lot of new products like Google Home Mini, Max audio experience, Daydream VR goggles, Google Pixel Buds, Google Clips, and a new flagship of mainstream laptop called the "Google Pixelbook."
Here are the highlights of the highly anticipated hardware of Google.
Pixel 2 and Pixel 2 XL
Manufactured by HTC and LG, Pixel 2 and Pixel 2 XL are designed to anticipate your needs with one tap designed with the best of Google built-in. Best features are:
• Ultra vivid OLED displays
• Super fast charging
• Water resistant
• Fastest fingerprint sensor
• Smartest Assistant
• First Phone with Google Lens
• Exclusive AR stickers
• World's highest-rated camera
It has re-imagined Smartphone photography through great hardware and unparalleled imaging software. DXO Mark Mobile issued an unprecedented score of 98 percent versus the 89 percent score from Google Pixel last year, the highest score in any Smartphone camera. Read full review here.
Colors: Just Black, Clearly White, Kinda Blue (Pixel 2), Black and White and Just Black (Pixel 2XL
Price: $649 (Pixel 2), $849 (Pixel 2XL)
Google Home Mini
The newest member of the Google Home Family, the Google Home mini is small enough to place anywhere in your home and is best combined with the other Google Products. It is made in a circular shape so it can project 360-degree crisp sound. You can control it by touch or with a tap on top of the product's fabric if you want to adjust the volume or play the next song. Google introduced 50 new features with the Google Assistant that can top up your experience to a whole new level in Google Home Mini.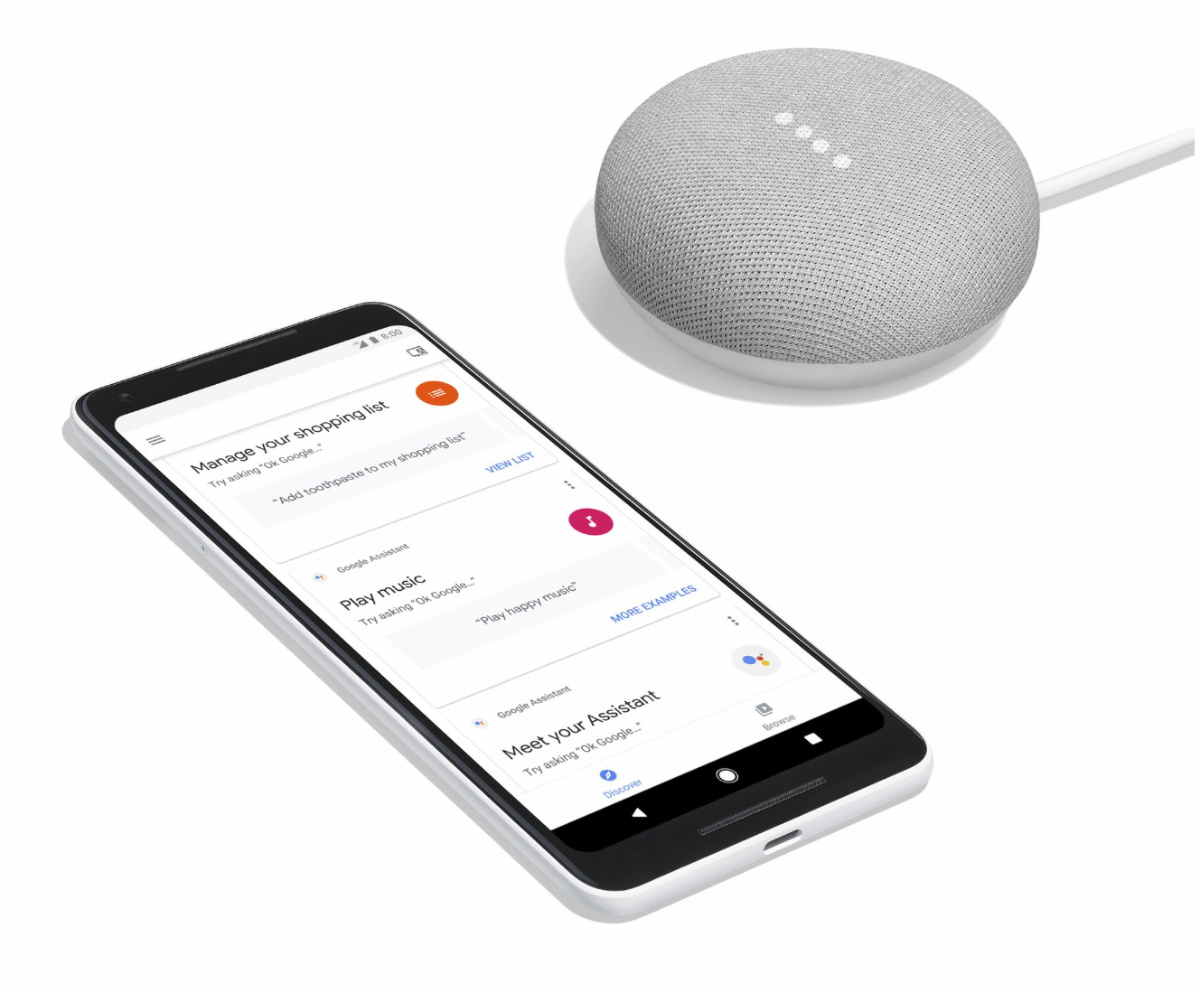 Colors: Coral, Chalk and Charcoal.
Price: $49
Max
A new audio experience powered by Google's AI that allows it to adapt in your environment called "Smart Sound" is a new feature in Max. Max is the "biggest and best sounding Google Home ever." With the Pixel reimaging the camera, Google did the same with sound. It is a combination of great software and hardware powered by the Google's machine learning capability. It has Dual 4.5 high-excursion woofers and custom 0.7 tweeters focused on bass experience that can fill the space in your house.
Colors: Chalk and Charcoal
Price: $399
Google Pixelbook
The high performance 12.3" touch-screen Pixel book display is the thinnest laptop Google has ever made with 10mm thin and 1kg light with high-resolution screen. It has fast and responsive stylus experience with just 10 ms of latency that absolutely feels like writing on paper.
• I5 & i7 processor
• Up to 16GB Ram
• Up to 512GB SSD
• Up to 10 hrs battery life
Color: Silver
Price: $999
Daydream VR goggles
A powerful way to bring the physical and digital together, Google is proud to announce Daydream VR Goggles. The newly updated Virtual Reality headset where you can experience new iMax movies available for free to Pixel 2 owners.
Colors: Charcoal, Fog, Coral
Price: $99
Pixel Google Buds
The first premium wireless headphones can use real-time Google translate to have natural conversation in 40 languages and is designed for great sound delivering clear highs and deep bass. If paired to Pixel phones, it can instantly access to Google Assistant with one tap.
• 5 hours listening time with one charge
• With hard case
Colors: Just Black, Clearly White, Kinda Blue
Price: $159
Google Clips
How do you capture those fleeting, spontaneous moments while letting yourself be part of the "moment"? Google Clips is an entirely new camera that can take photos for you, so you can enjoy the moment and instantly get shots you couldn't get before. Available for Google Pixel phones only.
Color: two-tone white-and-teal color pairing
Price: $245
I didn't think phones can do it all until Google Pixel 2, the Smartest and innovative devices all in one. Google today just got bigger and better. For more information and availability check out Google's store here.